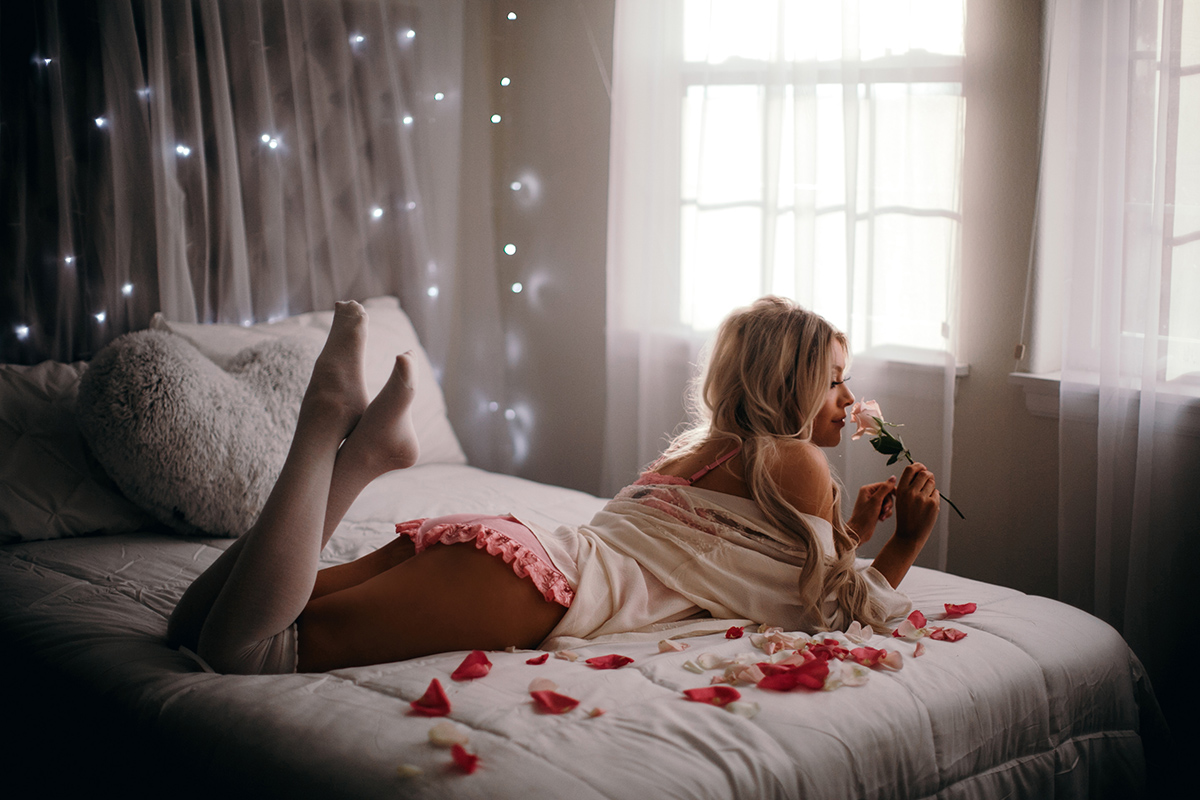 Subtle, classy, airy boudoir sessions in comfy clothes, sexy clothes or whatever you feel your best in to capture that you are that beauty that makes everyone say YASS QUEEN.
So you wanna book a boudoir session...that's great!
I truly believe every woman should do one boudoir session at least once in her life. I've photographed over 100 boudoir sessions and there's nothing more empowering than owning how gorgeous you are and celebrating that and not to mention commemorating it for years to come. Remember in Titanic when older Rose told everyone the drawing Jack sketched was in fact her and said, "Wasn't I a dish?" That could be you! And bonus, going shopping for some gorgeous lingerie is a plus! So here's what my Sweetheart Sessions include and how to finally get started on this bucket list item...
Sweetheart Sessions Package
$450 package with hair/makeup artist (plus tax):
$225 nonrefundable deposit required to book and then pay the remaining balance of
$225 due at the beginning of your session for 2 easy payments. The session is 2 hours (1 hour without glam) and comes complete with a minimum of 25 high resolution and professionally edited images on a password protected online album where you can view, share slideshows, order high quality prints and downloads! A premium 8''x8'' layflat hardcover book is available for separate purchase.
*Payments are nonrefundable*
1 hour of hair and makeup by glam artist (optional)
My preferred glam artist can do wonders with hair and makeup and loves to help create or recreate whatever vision you have in mind! Pictures from the internet are welcome! Please bring your fav foundation and false eyelashes. She can transform you into the bombshell you are! Please come with a clean face, hair prepped (example is if you need to straighten your hair to make it more manageable for curlers, it's a huge time saver!) and any other preferred lip color though we will have most red and mauve hues on hand.
View Tavae's Hurtado's work here: Beauty by Tavae Facebook
1 hour of shooting time at my boudoir studio located in Cheyenne!
With this hour, we have time to photograph a maximum of 3 outfits but you're welcome to wear 1 or 2, it's all up to you! The room has a stunning decor that's perfect for boudoir and long white curtains that fill the room with a glow and make a great prop in your photos!
Editing + Light
I enhance the photos light and color to add the vintage, film and dreamy look but refrain from changing how your body looks (unless it's distracting from the photo like a scar, stray hair, etc). If you have any specific things you would prefer to enhance or conceal, please let me know so we can do poses that show off that.
All digital images in an online private password protected album
All galleries are delivered on an online password protected album and no images will be shared without your permission.
Hardcover books are $75 and optional
Books are optional and take 2 weeks production time.
I'll send you a Getting Ready Guide shortly after you book with your deposit!
WHERE TO GET YOUR LINGERIE
Victoria's Secret is still my favorite spot to get some stunning pieces but if you're on a budget, you can find some equally gorgeous pieces at Target, Kohls, TJ Maxx, Rue 21, and even Wal-mart (2 of my favorite outfits from a session are actually from Walmart!).
If you're ordering online, please making sure it will arrive in time! In other words, ORDER ASAP since most packages take 7-10 days. I really love JOURNELLE, AdoreMe, Free People, Etsy, Modcloth, Dita Von Teese, Bloomingdales.com, Dollhouse Bettie, Unique Vintage and Forever 21. You can also find garters in Cheyenne at Victoria's Secret or adorable ones at Flair downtown Cheyenne. Thigh high tights in black or white can be found at Target or Walmart. Please don't get too tight a size in thigh highs (too tight can be very unflattering!). A size large usually fits most girls perfectly unless you feel you're a bit more short or thinner in thighs, then a medium!
and now to keep it real
Full disclosure, a lot of people have a preconceived notion that a boudoir session will magically change your life and instantly boost self-confidence with a snap of a finger. I need you to remember that this confidence and shine will always come from within and your own badass power to feel sexy and strong - I can only guide and encourage you but you're turning that sparkle and self-love on. So if you're ready to go on an empowerment adventure and feel the Beyonce vibes, then let's freaking do this!
MESSAGE ME TO BOOK YOUR SESSION!